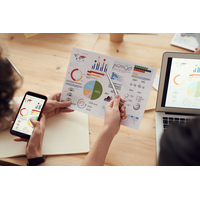 Are You Managing Your Group Benefits Costs?
This is the second in a series of blog posts leveraging data and insights from our 2020 Tech Industry Benefits Survey, our partners at HUB International's National Employee Benefits Practice and an additional member survey done this September regarding the impacts of COVID on group benefits plans in tech.
Annual group benefits costs in the tech industry have increased 15-20% over the past 2 years.
Salary increases get much attention and scrutiny each year, but what about your group benefits costs? Do you scrutinize those each year? Or throw up your hands in frustration?
Yes, there are some costs that employers cannot control. You cannot control employee and dependent claim patterns. I am definitely guilty of throwing up my hands in frustration when faced with skyrocketing claims patterns.
So what costs can employers control?
Employers can control:
Insurer expenses

Plan design

Premium cost sharing

Encouragement of healthy behaviors
Insurer expenses
To a degree, employers can control expenses paid to group benefits insurance companies.
Look at your underwriting arrangements. Employers can reduce these insurer expenses by taking on more of the risk on claims. Self-insuring dental benefits in an option to consider.
Look for opportunities to leverage aggregate purchasing power of a group. The HR Tech Group Benefits Buying Plan provides members with an opportunity to lower insurer expenses through volume purchasing. By pooling premiums, our participating members gain significant and ongoing cost savings.
Plan design
Your claims experience data can provide valuable insights to help you make data driven decisions about your plan design.
Where are the largest claims costs? Are there cost control measures built into your plan design for those benefits? Do you cap certain benefits? Do you have combined maximums, co-pays, deductibles? How about other cost control measures on prescription drugs?
Disability costs are increasing in the tech industry. Review your short-term and long-term disability claim data for trends. Why are people going on disability leave? What disability management processes does your insurance company have in place? Are they proactively partnering with the individual and with you, the employer, to help get the person back to work? Some insurers are better at managing disability claims than others.
Premium cost sharing
Our recent survey showed that extended health care premium cost sharing is in place at sizes of employers, it is far more prevalent with larger employers. Our Fall survey also indicated that some tech companies are considering introducing or increasing employee cost sharing on their benefits premiums. This can have an added effect of reducing the number of dependents on a plan if families have other plans available through spouses.
Encouragement of healthy behaviours
Again, claims experience data can provide valuable insights to help you make data driven decisions. Do you have employees with conditions that could be improved with lifestyle changes?
Employee Assistance Plan providers and other benefits insurers and wellness providers offer health and wellness campaigns, such as wellness challenges, heart health campaigns and smoking cessation campaigns.
Some tech employers provide their employees with free health assessments and/or wellness spending accounts. With the current work-from-home arrangements, many tech employers are offering virtual fitness classes, yoga classes, meditations and other activities to encourage and influence healthy behaviours.
While it's tempting to throw up one's hands in frustration during renewals, there are many actions that can be taken to manage escalating benefits costs.
---
Visit our website for information HR Tech Group's Benefits Buying Plan and on our 2020 Tech Industry Benefits Survey, produced by our partners at HUB International.
---