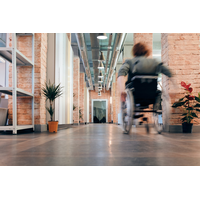 Current State of Diversification in BC's Tech Sector
A diverse and inclusive workplace culture drives innovation and new ideas and helps to attract, retain and develop talent. So how diverse is BC's tech sector?
Our inaugural Diversity in Tech Dashboard provides us with some concrete numbers on the state of diversification in our tech sector. The dashboard provides a benchmark for BC's tech sector to track its progress on increasing the representation of under-represented groups within the sector over time.
So what did it reveal?
Quite a bit about gender diversity.
Of the gender data collected for 14,132 employees in BC's tech sector, 31.9% self-identified as women.
However, those employees are concentrated at the lowest levels on job hierarchies, in entry level and para-professional roles. Representation of women drops to 16% at the Specialist level and 22% at the Senior / Lead level.
Only 15.2% of Software Developers, the largest job family within our Tech Salary Survey, self-identify as women.
What else did the report reveal? Of the employee data reported,
43.3% self-identified as a visible minority

2.1% self-identified as a person with a disability

0.5% self-identified as an Indigenous person

8.2% self-identified as LGBTQ/2S
Representation of both people with disabilities and Indigenous peoples are well below the latest Statistics Canada census data for British Columbia.
Lots of room for improvement.
2020 has not been an easy year. We're very pleased that so many companies took action this year and asked their employees to self-identify on diversity factors. For many companies that was a big leap of faith. For many employees too. We hope to grow the dataset in 2021 as more and more companies prioritize diversity and inclusion.
Join us in measuring organizational diversity! Ask your employees to self-report, using HR Tech Group's free benchmarking questionnaire and toolkit. It's available here!
Measuring the diversity of your workforce sends a message that you value diversity. It also allows you to set goals and track progress over time.
Read the complete Diversity in Tech Dashboard for additional data on the state of diversification in BC's tech sector.
---