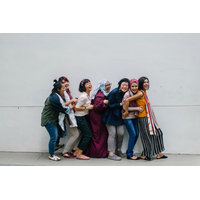 Have little time but lots of desire to make your workplace more diverse and inclusive? Not sure where to begin?
Before we jump into suggestions, let's review some interesting statistics*1:
Women make up 13% of the average Canadian tech company's executive team.

53% of Canadian tech companies have no women executives.

73% of Canadian tech boards have no women directors at all!
And the numbers grow even more bleak if we look at other underrepresented groups, such as people with disabilities and indigenous peoples.
With all of this, it's easy to be overwhelmed! If we want to build more inclusive and diverse workplaces, where do we even start???
Start by taking one step towards where you want to go. Every mountain climbed started by taking one step! Taking a step towards building a more inclusive and diverse workplace will produce positive outcomes, and adding them up we can build a more inclusive and diverse organization in no time!
Here are some ideas:
Look at your hiring stats. What percent of your applicants are from underrepresented groups? What about your new hires?
Talk about inclusion with your team. How are we unconsciously being exclusive to some people? What actions could we take to be more inclusive?
Consider who you are overlooking for promotion because you've made assumptions, consciously or not.
Set a SMART diversity goal for your organization or team! (SMART = Specific, Measurable, Assignable, Realistic and Time-related goals).
Want to know where you stand? Hire an external consultant to do a diversity and inclusion audit of your organization; they'll provide you with the findings and also with suggested strategies and actions you can take.
Check out this Conference Board of Canada blog post for some more practical suggestions: Disrupting Diversity + Inclusion: The Promise of Behaviour Design. The post discusses some pretty big concepts (like behavioral design, innovation and a whopping 150 cognitive biases), but it also drills it down to some really compelling insights and practical suggestions like this one:
Behavioural insight: The first piece of information that we consume anchors us to that reference point. Design for inclusion: Remove school names from applications to increase recruits from less-known schools. This simple change resulted in 10 per cent more recruits from state schools at EY.
What practical actions have you taken? Share them in the comments!
Remember, taking one step is the only way to start climbing a mountain!!
Footnotes:
1 Where's the Dial Now by PwC and MaRS Discovery District
https://docs.wixstatic.com/ugd/55c9d2_efb58fc4258b40978b5d2bc3a9d2a577.pdf
---