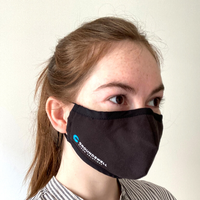 Preparing for a Safe Return to the Office in 2021
Written by Stephanie Sang at Masked For Work
As vaccinations roll out in phases in Canada, it's important to start planning for a safe and gradual return to the office. Because research and information on COVID-19 changes rapidly, it's crucial for companies to be as adaptable as possible. Right now, the priority groups being vaccinated include health care workers and the elderly.
We'll go over some general recommendations to consider as you start planning your safe, gradual return to the office when the time comes.
1. Review COVID-19 guidelines at all government levels
As a company, it's important to review and comply with all of the local, provincial, and federal legislation that are updated regularly. Based on the recommendations, you can create health and safety policies for workers, including prescreening measures.
2. Reorganize your workspace with clear signage
You can rearrange work areas to increase safety including having desks placed at least 2 metres apart, installing barriers, and adding a hands-free door pedal.
Add clear signage around the workplace to remind people to practice safety habits like washing their hands for at least 20 seconds with soap, sanitizing their work stations before they leave the office, and cleaning before and after the use of equipment.
3. Clearly communicate safety policies ahead of time
There are many changes and information for people to process which is why it is important to communicate the policies well in advance of them returning to work. You can use videos and visuals to help staff remember crucial information more effectively. Establish a way for employees to confidentially validate state of health as well as any concerns they have.
Why vaccinated people are advised to wear a mask
It's important to know that currently at the date of this post, health officials advise that vaccinated people should wear a mask because even if the vaccines appear to be highly effective against COVID-19, there is the possibility that vaccinated individuals could be spreading the virus to other people because they are asymptomatic.
Dr. Zain Chagla, an infectious disease specialist and associate professor at McMaster University said, "There's nothing there [in Pfizer's data] that suggests that people are less transmissible. All we know is individuals who got the vaccines had less symptomatic disease than people who didn't get the vaccines."
Dr. Rob Koza, a clinical microbiologist at Sunnybrook Hospital in Toronto said, "It's going to take for everybody to get vaccinated, not just in Canada but across the world. The masks probably aren't going anywhere."
How to keep your team safe as restrictions are gradually lifted
The Vancouver-based tech company Groundswell Cloud Solutions got custom logo masks for their staff.
Kathryn Hall, a Marketing Assistant at Groundswell, said, "We want to provide our people with the tools to help them be the best at their job, and we care about our team members personally. We are a unique cloud computing firm because of our people and have always maintained that we can only be our best if we work together."
The company provided masks even for their staff working from home. "You still need to know your company supports your health outside of the office," Hall said.
Get masks up to Health Canada's recommended standards
On November 3, 2020, Canada's top doctor Theresa Tam recommended that masks should be a minimum of three layers. Two of the layers should be made of tightly-woven fabric like cotton or linen and a third layer should be a "filter-type fabric," according to the Public Health Agency of Canada
The World Health Organization recommended three layers back in June 2020. At the end of January 2021, health experts recommended having more mask layers.
How to choose high-quality masks in Canada
Even though the Canadian government's guidelines don't currently state that masks must be ethically made or made in an eco-friendly way, there are many companies like us at Masked For Work that go the extra mile and integrate excellent social and environmental practices in the production of masks.
Canadian-owned mask companies that integrate great social and environmental practices include Plus Guardian, Organic Masks Canada, and the People's Mask.
When you are choosing masks, ensure that there are enough positive reviews.
Conclusion
Vaccinations are being distributed in phases across Canada with health care workers and elderly people being given priority. It will take time for the general public to receive the vaccines.
In the meantime, it's a good idea to start planning early for a safe return to the office by:
Following the recommended guidelines of all government levels

Reorganizing your office space to minimize risks

Getting high-quality masks that meet the government's recommended standards

Provide enough PPE for your staff around the office
---