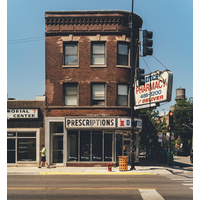 The Evolution of Employee Benefits
This is the first in a series of blog posts leveraging data and insights from our 2020 Tech Industry Benefits Survey, our partners at HUB International's National Employee Benefits Practice and an additional member survey done this September regarding the impacts of COVID on group benefits plans in tech.
Is your employee benefits program evolving?
A couple of years ago, several telemedicine providers burst onto the scene, making it easier for Canadians to seek treatment and advice from physicians and nurse practitioners, all from the comfort of their home or office; however, companies were slow to adopt this as a virtual health option for their employees.
Digital transformation has been a well-trodden expression for a few years now. For many of us, it's been vague and intangible and not especially pressing. Until COVID-19 hit.
BAM!
In a hot minute we've collectively transformed our personal lives, our education systems and our businesses to operate digitally. We need to do the same with our employee benefits offerings.
Health care providers have adapted and have new offerings. COVID-19 has pushed many physicians to offer virtual healthcare consults. My daughter and I have both seen our family doctor virtually over the past 6 months and last week my friend's son had a virtual orthodontic check-up. Heath practitioners, from psychologists to naturopaths, now offer services virtually.
Internet-based Cognitive Behavioural Therapy (iCBT) is being offered through digital platforms. Counseling and support groups are available virtually. Virtual pharmacies like PocketPills enable people to renew prescriptions and receive medications without leaving their homes.
Fitness and wellness resources are online. Virtual personal assessment tools for mental health and nutrition were already available before the pandemic. My husband now participates in weekly virtual yoga classes, right outside my office door.
So how are you evolving your employee benefits in this time of dramatic change?
Our surveys showed three key HR and group insurance concerns for tech companies -
Employee mental health
We are seeing tech companies add coverage relating to mental health. They are increasing psychologist and clinical counselling visit coverage amounts. They are reimbursing for online fitness classes. They are putting in place Employee and Family Assistance Plans where they haven't yet been in place. 24% of surveyed tech companies are planning on offering on-line health & wellness challenges within the next 12 months.
How are you evolving your benefits programs to better support employee health?
Retaining employees
Only 50% of the companies in our survey provide maternity leave top-up pay.
How are you evolving your benefits programs to retain your employees? Who do you want to retain and what's important to them? Are you looking to hire and retain women? How about parental leave top-up pay?
Adding flexibility to benefits programs
46% of tech companies surveyed provide Health Care Spending Accounts. Only 9% currently provide flexible benefits plans but an additional 20% are considering them.
27% are planning on adding a virtual healthcare option within their benefits programs within the next year. 16% are adding virtual fitness programs and 8% plan to add a virtual pharmacy option. How are you adding flexibility to your benefits programs?
Benefits programs are an expensive and important component of total compensation. How will you evolve your employee benefits programs this year?
Want to know more? Click here for more information on HR Tech Group's 2020 Tech Industry Benefits Survey, produced by our partners at HUB International.
---