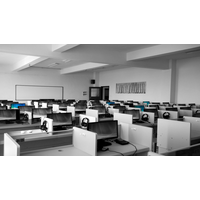 Will our Tech Industry Return to the Office?
Restrictions are being lifted and retail businesses are slowly opening up, but will our tech industry return to the office during this pandemic?
The short answer is yes, a little bit at a time. It will be slow and staged. Cautious and collaborative. Not all will return.
So what does that look like?
Most tech companies are asking their employees what they want. They are asking them what safety measures would make their return comfortable. What are their needs? Do they want to continue to work from home until the pandemic is over? Or are they desperate to get back into an office setting? Individual needs are being taken into account. One-sized-fits-all approaches are not being taken. Rotations are being planned, with people coming to work only a couple of days per week.
Some companies are moving to a permanent remote model.
Clear policies and practices are being put in place. Signage, one-way foot traffic, mandatory masks in common areas. Bathroom protocols. 12% of our member companies surveyed have implemented temperature checks.
Open concept tech spaces are looking at plexiglass barriers between cubicles. Desk are being reconfigured and spread out. It's going to look like our grocery stores. Lots of rules and clean as a whistle!
Kitchens will be bare. Coffee machines, chairs and snacks are being removed. It's going to be BYOD ("bring your own dishes") for a while. No creamers in the fridge. Some companies are removing microwaves and water coolers.
Interviewing of candidates in the office won't be returning in a hurry. When we surveyed our members, of those companies that have determined an interviewing strategy, half plan to continue with remote interviewing. Another 48% plan to limit office visits by doing a mix of in-person and remote interviewing.
BC Jobs ran a virtual tech job fair last week, with hundreds of tech workers talking with recruiters from companies that are hiring. It was successful and they plan to continue facilitating these events. Virtual job fairs work.
Remote interviewing is a trend that will likely stick around.
For those who do return to the office in some format over the next couple of months, there certainly won't be any big parties. A few physically distanced picnics and parking lot BBQ's are being planned but gone are the Happy Hour Fridays in the lunchroom.
Ensuring a safe workplace during a pandemic…. This is new territory for all of us. Our networks are vital at a time like this. We can lean on each other (figuratively of course!) and share ideas, solutions, plans and resources. Reach out to your network today.
And speaking of resources, here are a few resources that are repeatedly recommended by our HR Tech Group community:
---