OUR MISSION IS... 
to enable tech industry growth by collaborating, championing the needs of our industry and delivering data and HR thought leadership.
OUR VISION IS... 
to be the tech industry's go-to HR place.
OUR VALUES ARE...
COLLABORATION - we connect tech companies to share information and help them grow
IMPACTFUL - we deliver results that assist HR leaders and their organizations
LEADERSHIP - we provide thought leadership and an industry voice
AGILITY - we respond quickly and resourcefully to the needs of the industry and our members
 
---
HR TECH GROUP STRATEGIC PRIORITIES
With thought leadership, HR data, benefits buying power, a collective industry voice and more, HR Tech Group provides the only forum for human resources professionals employed in the BC tech industry to exchange relevant knowledge, share experiences,  expand their networks and learn.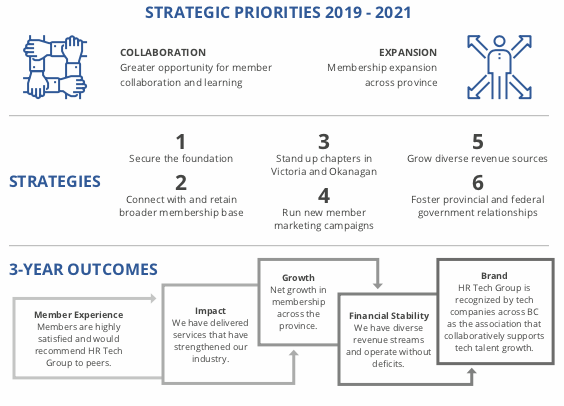 ---

Our history:  Founded in 1992 by a handful of senior HR practitioners navigating the burgeoning and diverse tech industry, the HR Tech Group was born of the need for peers to share data and compare practices. That's how our respected High Tech Salary Survey – established in 1994 -- got started. But the founders also saw the importance of offering a forum that advanced the strategic value of the HR profession, by providing leadership on progressive HR practices, equipping members to contribute to the success of their own organizations, and ultimately, contributing to the overall strength of the tech industry. 

Our Impact:  HR Tech Group was responsible for creating the definition of the "High Tech Professional" and "High Tech Company" for the provision of the Employment Standards Regulations which apply specifically to the high tech sector.   In addition, HR Tech Group worked federally to implement an immigration pilot program for fast-tracking tech workers, and has worked with provincial government authorities on current immigration challenges for the industry.  HR Tech Group has also represented the BC tech industry, by partnering together, at different international tech recruitment fairs.
HR Tech Group Today:  Today, knowledge exchange remains a core tenant for our group. Member data continues to be the backbone of our BC Tech Salary Survey, and providing leadership in HR practices is ongoing. We are a professional organization that exchanges information through email, quick surveys, programs and events, special interest round-tables and networking. We encourage and foster involvement, contribution, mutual support and life long learning.  To learn about the benefits of membership click here.

Our Members:  We serve over 150 mid to large size member companies - some well-known and established; others, up and coming - in all areas of Tech:  IT, Film/VFX, digital media, clean tech and life sciences.  Our members comprise senior level HR professionals, mid-level and emerging practitioners who are building their professional careers and are looking to learn and grow.  To maintain our core focus of peer-to-peer and company-to-company exchange, as well as the integrity and relevance of our salary survey data, member companies need to have technology workers, have a minimum of 30 employees, and a full-time HR professional dedicated to advancing best practices.  We welcome new and enthusiastic member companies.
Sponsors
Contact info@hrtechgroup.com for information on Sponsorship opportunities.
Quick Links