Employee Benefits Programs with HUB International
As a member of HR Tech Group you are eligible to participate in valuable  Employee Benefits Programs.  You also have access to a breadth of benefits consulting services available through HUB International.
HR Tech Group's Benefits Buying Plan has been in place for almost 20 years, offering HR Tech Group members competitive benefits services ranging from plan benchmarking, cost analysis comparison and support in health and wellness initiatives to expertise in the design, implementation and operation of both traditional plans and flexible benefits plans.
---
HR Tech Group - Employee Benefits Program Overview
Benefits Consulting Services  
Gain access to HUB International's expertise: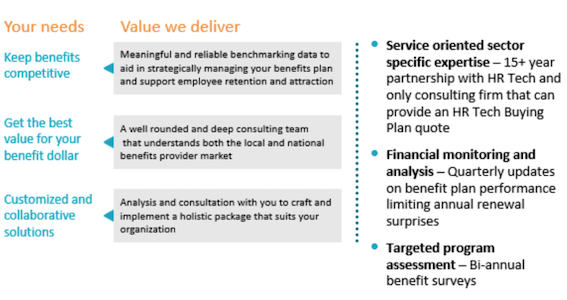 ---
HR Tech Group's Employee Benefits Buying Plan
This plan enables members to obtain group insurance for their employees at a reduced rate - leveraging our aggregate purchasing power as a group.
This program provides a distinct competitive advantage in the marketplace and has served our members well for many years, delivering the following key benefits:
REDUCED group benefit costs

INCREASED sustainability of savings as benefits costs rise

MAINTAINED autonomy with respect to your plan design
Many member companies have found significant cost savings when comparing the Benefits Buying Plan to their existing benefits arrangement. This 2 minute video offers more info.
---
HR Tech Group's Employee and Family Assistance Program (EFAP)
HR Tech Group members also have access to discounted rates for Morneau Shepell's LifeWorks, the largest Employee and Family Assistance Plan in the world!
LifeWorks is a market-leading total well-being solution that supports the health and well-being of all your people everywhere. LifeWorks brings the best user experience and clinical support together to achieve mental, physical, social and financial well-being for 100% of your employees locally and around the world. 
Employing a modern and easily accessible EFAP solution will help your staff avoid common pitfalls such as:
•             Lack of productivity – affecting the bottom line
•             Stress – personal and work stress can influence your employees' motivation and focus
•             Absenteeism, that can lead to short and long-term disability
•             Lack of engagement and loyalty
•             Presenteeism – due to stresses around balance and health
•             Turnover – due to poor culture and support
HR Tech Group member companies can access additional LifeWorks well-being services such as well-being feed, health risk assessments, recognition, personalized content, perks and financial health support.
Click here for a LifeWorks client Testimonial Video.
To find out more contact Rod Ezekiel (Sales Director, LifeWorks by Morneau Shepell) at 604.349.5911 or rezekiel@morneaushepell.com
---
Benefits Survey
As an added benefit to HR Tech Group members, HUB International conducts our bi-annual benefits survey, providing valuable benefits plan benchmarking information for all extended health benefit categories including forecasted changes, tailored to our industry and our local market.  
---
To find out more about how HUB International can support your organization through our member programs, please contact either:
HUB International is a leading full-service global insurance broker providing property and casualty, life and health, employee benefits, retirement and risk management products and services with more than 12,000 employees in some 475 offices located throughout North America. HUB International is ranked fifth among the world's largest insurance brokers. Employee benefits is one of four lines of business for HUB International (including property & casualty, retirement, and personal); each providing highly differentiated services to clients large and small, in-country, and cross border. (https://www.hubinternational.com)
Sponsors
Contact info@hrtechgroup.com for information on Sponsorship opportunities.
Quick Links