Join us at the Microsoft office (700 - 725 Granville St.) to learn more about the recently released report on "Diversity & Inclusion in the BC Tech Sector". What have we learned from the research and what are our sectors stats? What are companies doing to increase their engagement with under-represented groups? Learn what resources currently exist to help you implement D&I practices, and which organizations you can get involved with. HR Tech Group recently completed a provincially funded project which surveyed the BC tech sector on current D&I practices. This was a province-wide collaboration, with Advisory Committee Members from BC Tech, Vancouver Economic Commission, Minerva, First Nations Technical Council and the Immigrant Employment Council of BC.
Agenda:
- Learn about key research and leading best practices on diversity & inclusion
- Learn about the report findings for the BC Tech sector
- Understand the 5 key recommendations from the sector
- Hear from a panel of local tech companies, on how their journey of diversity & inclusion started - some in early stages, others further along
- Hear from key industry partners from under-represented groups and how you can better engage with their existing projects
- Next steps - resources for moving forward

Speaker:
Leslie Fast is the Diversity & Inclusion Project Manager for HR Tech Group's Canada-British Columbia Labour Market Development Agreement . Leslie was responsible for conducting the research for the report, which included surveying and interviewing multiple key stakeholders in the BC Tech sector. Leslie is a Certified Change Management Professional who partners with clients to successfully implement strategies and achieve results through advice and support on business transformation, change management and organizational development.
Panelists:
Penny Chong - Microsoft
Leslie Collin - Unbounce
Heidi Rolston - Hootsuite
Stephanie Redivo - SAP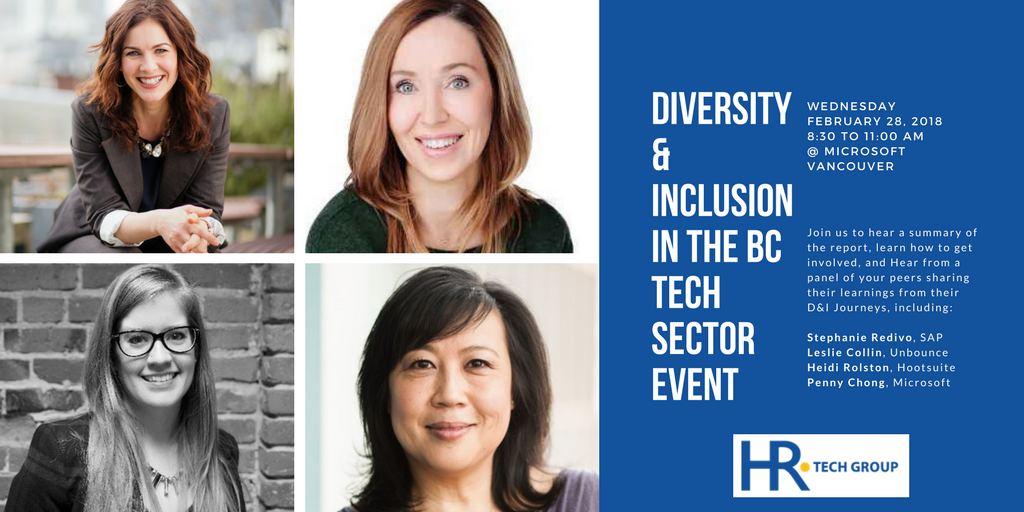 We will also be hearing from our industry partners on the current projects and initiatives they have on the go in the D&I space:
Tina Strehlke - Minerva Foundation
Sangeeta Subramanian - IEC-BC
Marco Pasqua & Mahin Rashid - Presidents Group
Kraig Docherty - BC Tech
725 Granville St, Vancouver, BC V7Y 1L1, Canada