Inclusive Leadership Program:
Building a workplace where everyone has access and equal opportunity to succeed
Leaders seeking to expand their awareness around diversity and inclusion in the workplace are invited to participate in our Inclusive Leadership Program. This program is targeted towards leaders open to challenging their own perspectives and creating more productive and inclusive teams.
This program is a part of HR Tech Group's Diversity and Inclusion Tech Project to increase the attraction, retention and advancement of women, Indigenous peoples, people with disabilities, people of colour, newcomers to Canada, and individuals who identify as LGBTQ/2S in addition to all under-represented groups in skilled occupations in B.C.'s technology sector. The learning outcomes for this 3-day program (spread over 2months) are:
Learning Outcomes (subject to minor modifications):
Identify your underlying beliefs, areas of privilege and personal bias
Explain the societal and organizational barriers for women, Indigenous individuals, people living with disabilities, and other underrepresented groups such as immigrants, people of colour and members of the LGBTQIAS+ community
Apply communication tools that open dialogue and shift perspectives
Commit to and practice inclusive leadership behaviors such as empathy, effective listening, and accountable curiosity
Identify opportunities to set the conditions for an inclusive environment
Search out ways to advocate for underrepresented groups by noticing and reducing bias in organizational systems such as recruiting, and developing staff
Describe the competitive advantage and value of diversity & inclusion for your organization
Prerequisites:
Commitment to be present on all 3 days, along with 2 inter-sessional calls taking place between sessions (1 hour per call)
Module Dates:
Thursday, April 29th, 2021 (1 day)

Friday, May 28th, 2021 (1 day)

Monday, June 28th, 2021 (1 day)
The course will run virtually each day from 8:30am – 4:30pm
Inter-sessional Call Dates:
Tuesday, May 11th (1 hour, between 9:00am and 4:30pm - Time TBD)

Monday, June 14th (1 hour, between 9:00am and 4:30pm - Time TBD)
Course Location: Delivered virtually via Zoom
Facilitator:
Refinery Leadership Development
Refinery gives clients the real feedback and the right tools they need to develop their leaders and inspire people to do great work. We're a highly skilled team with diverse, deep business and life experience. We share a natural curiosity, passion for our work, and a desire to develop our clients. We're always learning, evolving and sharing.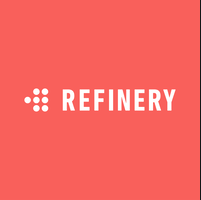 ---
*Once we have reached maximum capacity and this event is displayed as "sold out" please email info@hrtechgroup.com to be placed on a waitlist.