Join the leadership development program that promotes and accelerates gender balanced leadership!
Program runs January 4 – March 9, 2021
ABOUT THE PROGRAM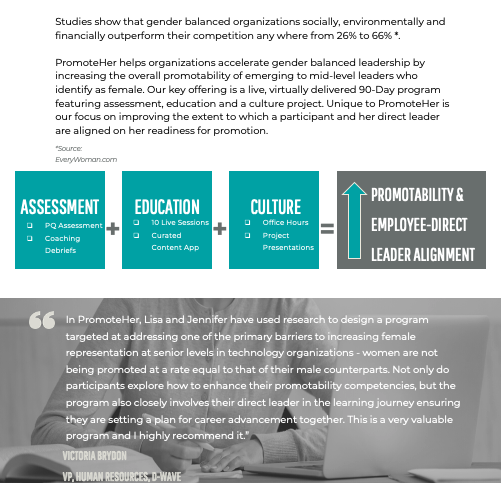 PROGRAM OUTCOMES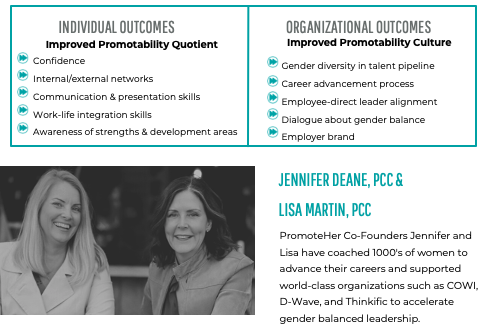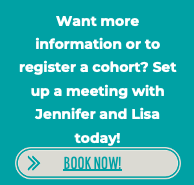 ---
REGISTRATION DETAILS
Registration closes end of day, December 15, 2020.

The course is designed for female emerging to mid-level leaders with a minimum of 5 years' work experience, who exhibit high potential attributes and aspire to rise.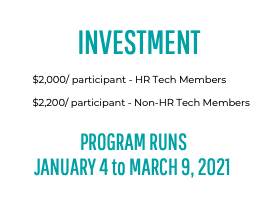 90 DAY PROGRAM HIGHLIGHTS
This virtual, live 90-Day program runs from Jan 4 - March 9, 2021. It features a combination of assessment and education.

The program kicks off with the dual-rater PQ Assessment followed by nine, 60-minute educational webinars.

All content is housed and accessible via the PromoteHer App. The time commitment to participate in the program is approximately 15-20 hours.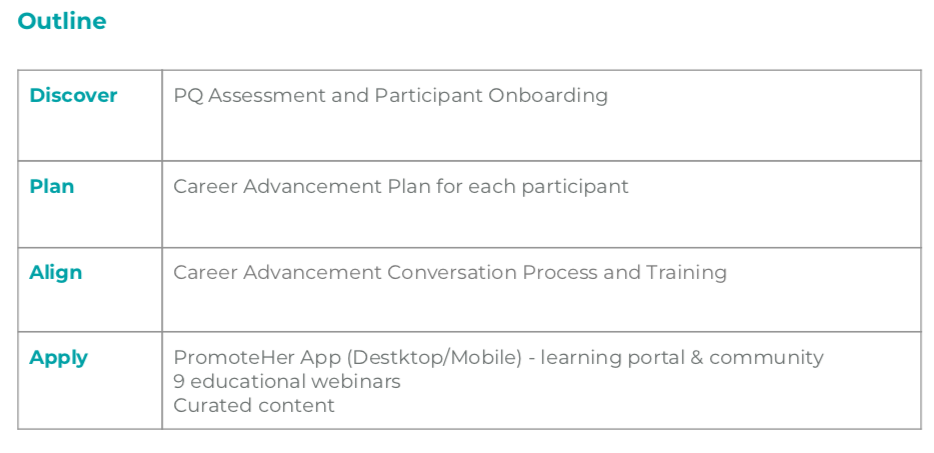 PROGRAM COMPONENTS AND TIMELINE
PQ Assessment Process

A dual-rater online assessment measuring the participant's and direct leader's perspectives on the probability of promotion based on 10 primers and 5 competencies.

January 4-January 13 Report by January 15

Welcome

An introduction to the program

January 12

PromoteHer Desktop and Mobile App

Access all educational content, including all the course recordings, tools and worksheets in one place. Connect easily with others in the program.

Invited Jan 12

Career Advancement Process - Part 1

Learn how to leverage the results of the PQ Assessment in order to lead a career advancement conversation.

January 19

Build Your Value

Learn how to anchor your promotability.

January 26

Build Your Vitality

Learn how to fuel your promotability.

February 2

Build Your Voice

Learn how to communicate your promotability.

February 16

Career Advancement Process - Part 2

Learn how to translate the insights from your career advancement conversation into a written plan.

February 23

Build Your Vision

Learn how to accelerate your promotability.

February 23

Build Your Visibility

Learn to broadcast your promotability.

March 2

Capstone - Program Close

Highlight your career advancement plan.

March 9
*Dates and times are subject to change.
www.promotehernow.com | email: team@promotehernow.com
---
REFUND POLICY
100% of program fee is refundable up to the registration deadline: December 15, 2020

50% of program fee is refundable for cancellations after December 15, 2020 and up to two weeks prior to the program start date, January 4, 2021.

No refunds available after that date.
Please contact us at info@hrtecghroup.com if you have any questions about the program or registration.